Gravel Near and Far
A Fixed Surface Metric Century
An alternative mixed surface cycling route beginning on the Maryland side of the Potomac River explored with our friends form Team BBC.
Great Eskape Gravel Metric Route
Snowy Side of the Mountain
After a second (somewhat snowy!) weekend of scouting gravel roads in Montgomery, Frederick, and Loudoun Counties we're pleased to say we have a metric century route that incorporates a good amount of great gravel roads, beautiful country lanes, some epic views, challenging climbs, and some awesome historic towns and structures.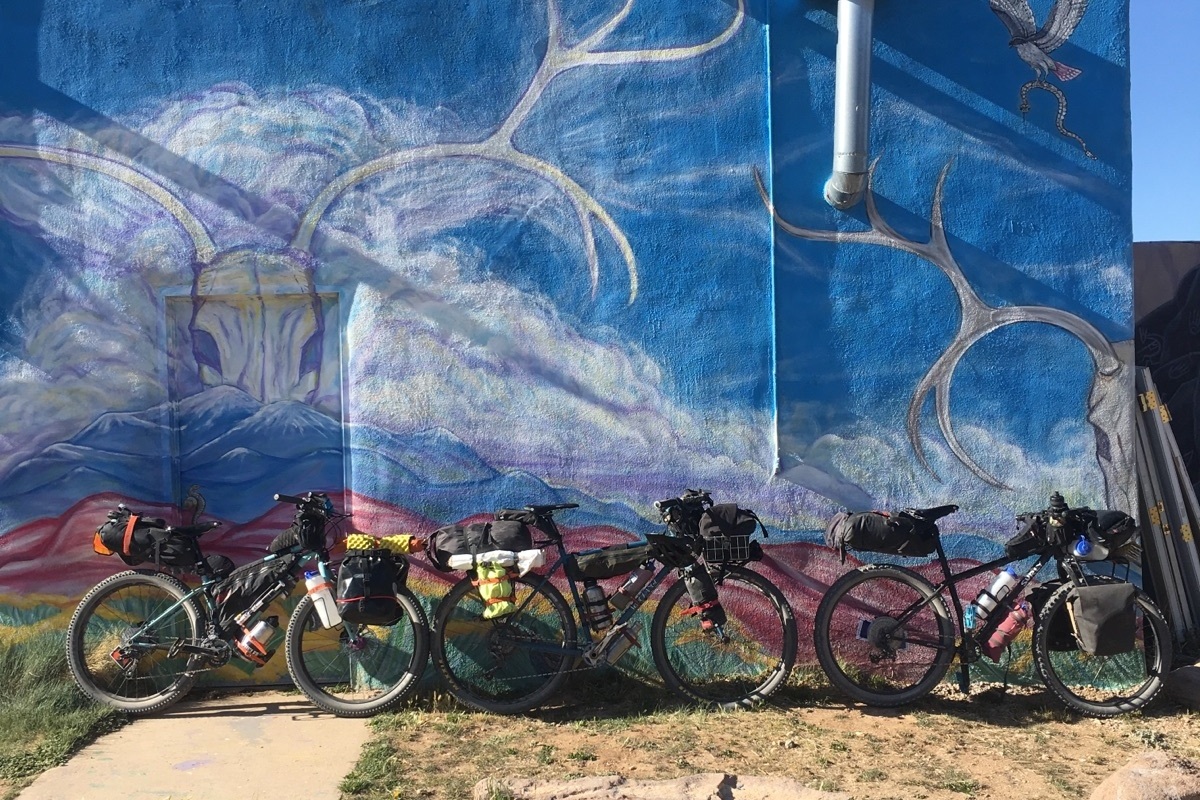 Bois Ranch
Bikepacking the New Mexico Off-road Runner.
In April, 2018, Andy, Tony, and Kevin set out on a 10 day mixed surface bike tour from Las Cruses, NM to Santa Fe, NM across over 500 miles of desert, pine forest, and scrub-lands. With time memories fade, and we all acknowledge that opportunities for something as grand as this are rare and worth remembering, so we took care to document our journey through pictures and words for anyone who may want to follow suit, but also, and mostly, to preserve the memory of this adventure for ourselves .
Great Eskaping the Great Allegheny Passage
Party Pace the GAPCO!
In May and June 2017, 9 members of our crew biked and camped our way across Pennsylvania and Maryland on the Great Allegheny Passage (GAP) and Chesapeake and Ohio (C&O) Canal Trails. Obviously we brought the ruckus the whole way. This is out chronicle of 5 days of beer runs, turtle selfies, bird encounters, random trailside porch beers with locals, flat fixing, more beer runs, honkey tonk bar patronage, sandwich eating, camp fire sitting, mexican food eating, and general bullshitting.
Rock me like a HuRaCan
Bikepack-racing in Central Florida
An account of a 5 day bikepacking race with a surprisingly great route in Florida with the great trail systems, and unexpectedly wide open spaces. We are still not sure whether this experience was actually "fun" but it was certainly unexpected, and we are grateful for the opportunity to spend good times with good friends doing something so incredibly stupid. Read on.
Hesitation and Trepidation
An Ode to the Big Dumb Ride: Singletrack Edition.
Alex B on his under-prepared-for 9 hour ride that was both miserable and amazing and how he learned what #recklessinpursuitofglory really means.
Party Gloves
Handup Gloves Review
Best gloves for grabbin' bars and beers? For sure. We have done a whole lot of that over the last 3 years, we have also crashed dozens, and dozens, and dozens of times into everything from rock gardens to trashcans behind the Showtime Bar on R.I. avenue. These gloves are tough as shit, fit well, and offer superior grip. Great Eskape would endorse these baddies under any circumstances, but we are especially proud to call them our O.G. team sponsor.