Cross is here, again.
Words by Andy
Photos by Edrie and Bundl
Cross has returned for team Great Eskape! While some members of the team have already raced this season (prior to Sunday) we're still calling this passed weekend's Hyattesville CX our 2017 team kick-off race. This weekend we had 5 racers enter 7 races.
For those of you who know Hyattesville CX, you know that the course is not at all technical and tends to be a bog when wet and a grass-crit when dry. This year was dry, unlike the last couple years, and also unlike the last couple years, they ran the course backwards this year as well. We all agreed that was an excellent decision and made for a more fun race. This sunday we brought about 2 gallons of Zeke's cold brew, set up the team tent, and settled in for a full day of racing, cheering, jeering, and hanging out on a beautiful bright fall day. None of us crashed through the only technical feature of the day - a woodsy downhill section with a hard, loose, off-camber turn. We're calling that a winning result.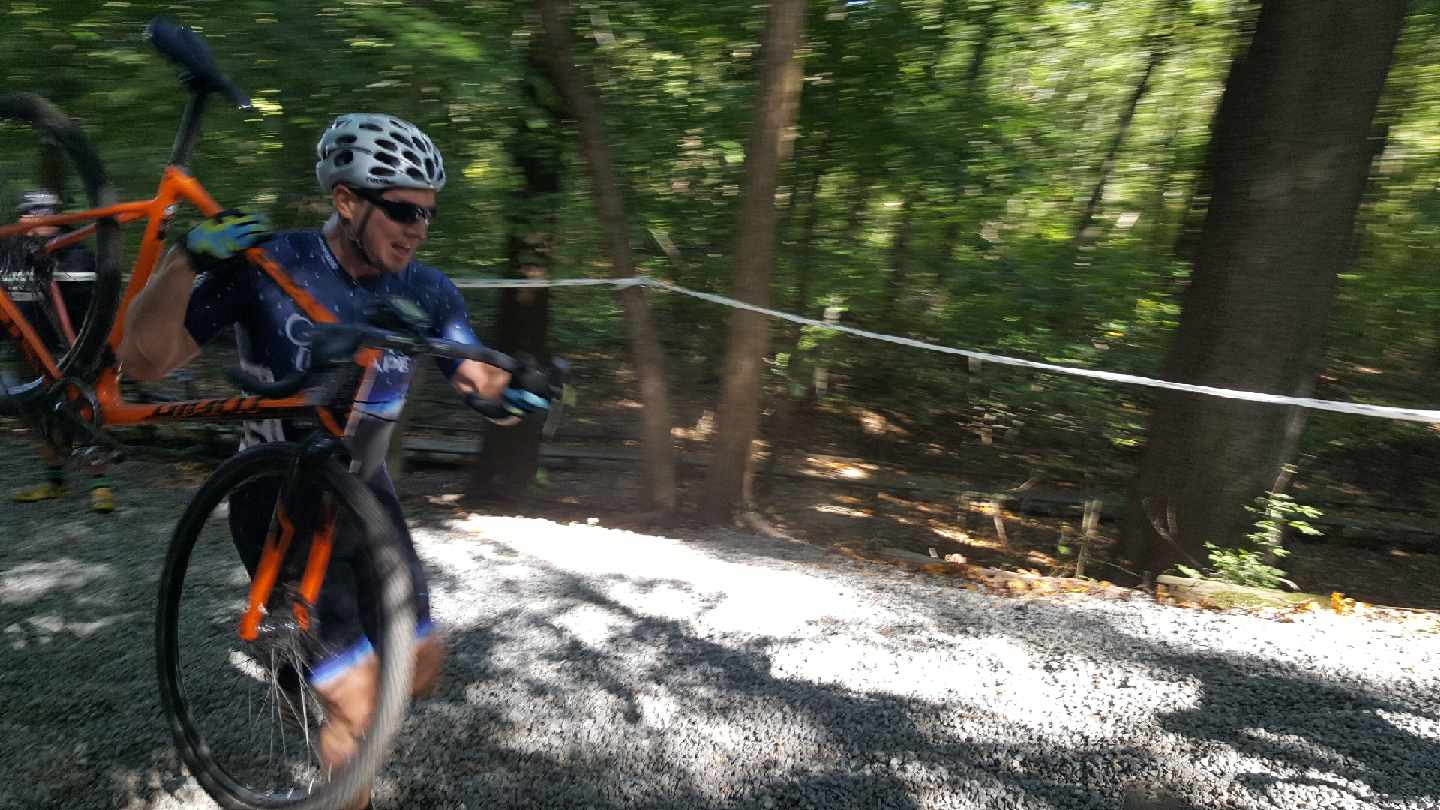 and speaking of results...
Our best results of the year both belong to Dylan, capturing 3rd place at Hub Labels Cross and 7th place at Hyattesville.
Great Eskape CX year-to-date results:
Hyattsville CX (Oct 1 2017)
Kevin Sundeen Men Open Singlespeed 20 / 33
Andrew Karr Men Open Singlespeed 31 / 33
Edrie Ortega Women Cat 4 11 / 19
Dylan Stagner Men Cat 4 7 / 73
Kevin Sundeen Men Cat 4 29 / 73
Andrew Karr Men Cat 4 63 / 73
Addison Larrow Men Cat 4 70 / 73
SykeloCross (Sep 24 2017)
Dylan Stagner Men Cat4/5 Senior 18 / 61
Brian Crowe Men Cat4/5 Senior 22 / 61
Brian Crowe Men Cat3/4 3/4 27 / 32
Edrie Ortega Women Cat4/5 Senior 10 / 24
Trek CX Cup (Sep 24 2017)
Addison Larrow Men Cat 4/5 83 / 93
Trek CX Cup Day 2 (Sep 23 2017)
Addison Larrow Men Cat 4/5 113 / 124
Organic Farm Cross- Race 5 of the BHB Cross Central Series (Sep 23 2017)
Alexander Boyd Men 4/5 9 / 33
Jessica Wilkinson Women 4/5 10 / 17
Hub Labels Cyclocross Challenge (Sep 10 2017)
Dylan Stagner Men Cat4/5 Senior 3 / 42
Luray Caverns CX (Sep 9 2017)
Dylan Stagner Men Cat 4/5 14 / 51