West Virginia Country Fried Failure
Words by Andy
Photos by Francis and Andy
With the milestone birthday approaching I decided I wanted to attempt some physical feat in the closing days of my 20's. Sort of a goal to get in shape and feel less aged, sort of a big dumb memorable event to mark the occasion, sort of a thing I might otherwise do anyway but where the timing coincided sufficiently to feel symbolic.
Ultimately I set my sites on completing the Hilly Billy Roubaix as my 30th birthday challenge, and ultimately I failed.
Only a few short weeks ago I mad a run at the Devil's Backbone Mountain Cross - a race of similar length and amount of climbing, and although my finish time was a bit on the long side I had no issues completing the race. What made the HBR different was the heat and humidity. I simply wasn't able to keep the cramps at bay no matter how much water I forced down. the cramps meant walking, the walking meant slower going, and the slower going meant more time in the direct sun. Eventually it was the exposure that got me with about 1/3rd of the race to go. Like a Hollywood movie desert wanderer my mumbles of "must go on" eventually stopped motivating me and I took the easy way out (a rented school bus and the promise of a cold beer.)
Could I have gone on and completed the race? Maybe - but judging by the finish times of those around me, it would have taken more than 9 hours. Disappointed? Yes, I would have liked to have finished it but I think I found my limits of suffering in terms of what I was willing to put myself through voluntarily. The key to a more successful race next year will be a better hydration strategy and a year's worth of pushing my pain cave threshold. I ended up taking two weeks off from the bike, and now that I am starting to peddle around again I do feel stronger and fresher than even before the race. The time off did my good I think.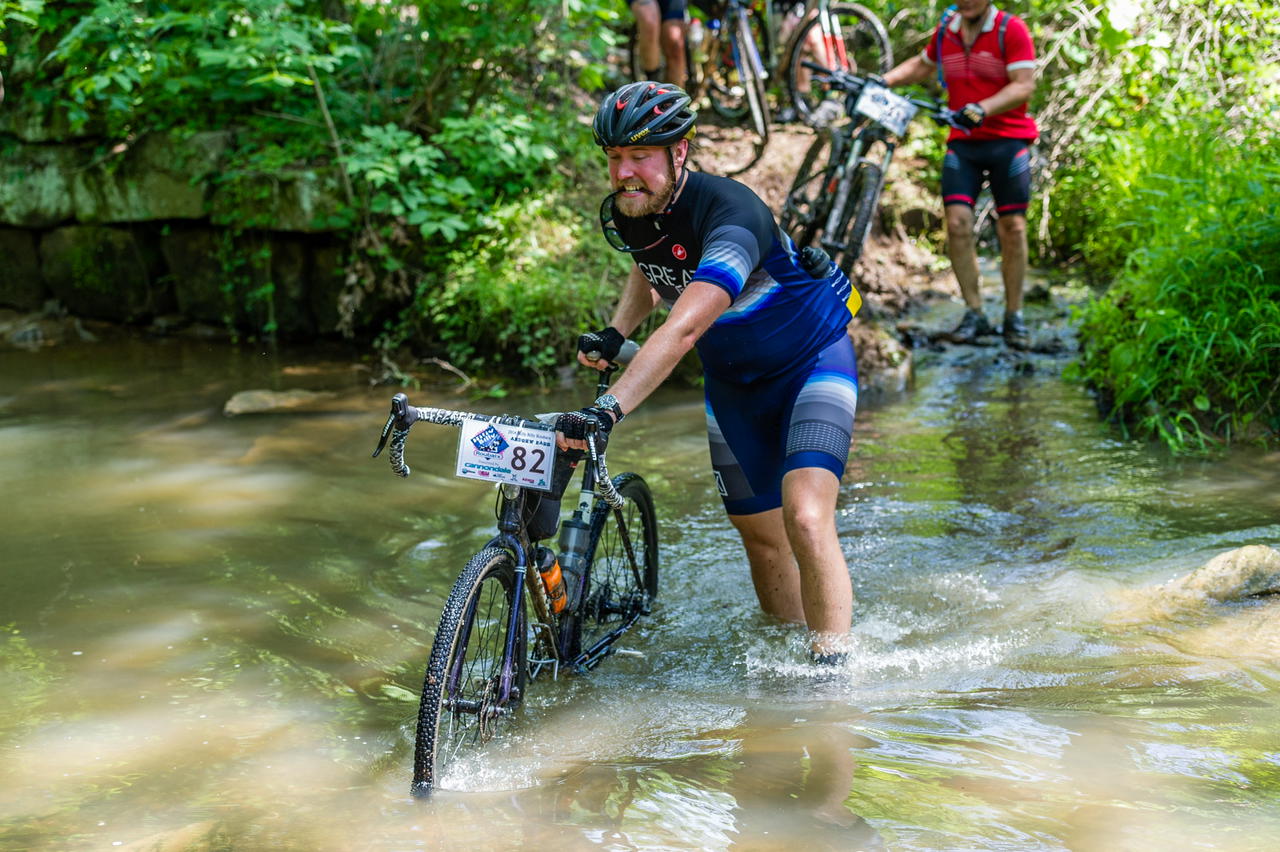 I must say though, that I am very glad I went. What was designed to be a racing focused weekend ended up being a really fun camping trip with some good dudes. Tonedog made the drive from NY (and finished the damn thing on a fucking singlespeed) and a bunch of the GreatEskape team made the drive from DC. Post race we pitched our tents near an old baseball diamond and sat on decaying bleachers drinking beer out of emptied water jugs. Even after that hellish race we found a sweet slice of warm beer heaven on a West Virginia mountain. A group breakfast at a diner and a scenic drive back capped the misadventure of a weekend.
Also on the way back we passed a RAAM racer. because we needed reminding that no matter how we did we were all basically wusses anyway.
Love always,
the rad Baron