48 Hr MoCo Bikepacking, Dreams of Summer
Words by Andy
Photos by Andy and Kevin
@rad_baron @pewpewbike
In honor of the first frozen precipitation of the year, we present to you a long overdue recap of Kevin and I's 48 hour, roll-out-from-the-front-door, summer-time, bike-packing trip in Montgomery County, Maryland. For inspiration we turned to Bikepacking.com's MOCO route, with some modifications to increase the amount of singletrack.
The Gear
I rolled out on a Canfield Brothers Nimble 9 "all-mountain" hardtail. Decidedly a trail bike, and surely overkill for a bikepacking trip like this, this bike is loads and loads of fun. Perfect for confidently ripping descents and and getting rowdy, it made for a fun and capable bikepacking rig, too - despite the limited frame space allowed by its unique design. I used a 1x setup with a 11-40 cogset, and after this trip definitely wished i had put a 11-42 on instead. I recently switched to a Brooks Cambium saddle with a cut out, which was great for adding some cush to the hardtail ride.
For my cargo, I went with a 20L Alpkit Airlock rollbag mated to a Joey harness up front, a 13L Alpkit drybag latched on to my Portland Design Works Bindle Rack out back, a tiny frame bag from Amazon, and a Polar Stuff backpack with my waterbladder and med kit.
Kevin rode his Jamis Dragon 650B. Also a steel hardtail, the Dragon leans towards the trail end of the mountain bike spectrum but is more cross country oriented than my Canfield and, because it has a larger triangle, allows for use of a normal frame bag.
For carrying his stuff, Kevin went with a Tyranny Portage Rationale custom frame bag and a Revelate Terrapin seat bag. His handlebar bag is a self hack made from an old real-estate sign and a rolled up tarp. Hand made in the USA, baby.
We both wore the shit out of our Handup Gloves (but still have not managed to waer them out -ed.). These things rock. Great for summer bikepacking, single track shredding, and now, cross racing.
Day 1 - Chesapeake and Ohio Canal cruisin':
The first day was cathartic but not very exciting. To get where we needed to be to camp and get to the 1track ASAP the next day, day 1 involved grinding out 42 miles of 2track canal path. Not exactly a bucket of thrills on a trail bike, but really quite a nice way to clear your head.
My favorite thing about the C&O is how easy it is to forget where you are and really immerse yourself in nature. Last year I did the whole damn thing Pittsburgh to DC, and felt a world away almost the whole time. Even on our one-day ride it is easy to capture that feeling. Plentiful water stops help make the experience, too, especially in the summer.
Overnight - Camp Vibes
Indian Flats Campsite is one of my favorites. It's usually dry, not as buggy as some others, is near the river, offers two fire pits, and is located near enough past the very neat and historic Monocacy Aqueduct. Another nice thing about choosing this campsite is the fact it represents the farthest from home point on the trip, so our next day's ride could involve a sweeping arch of mostly singletrack that would bring us in the direction of home.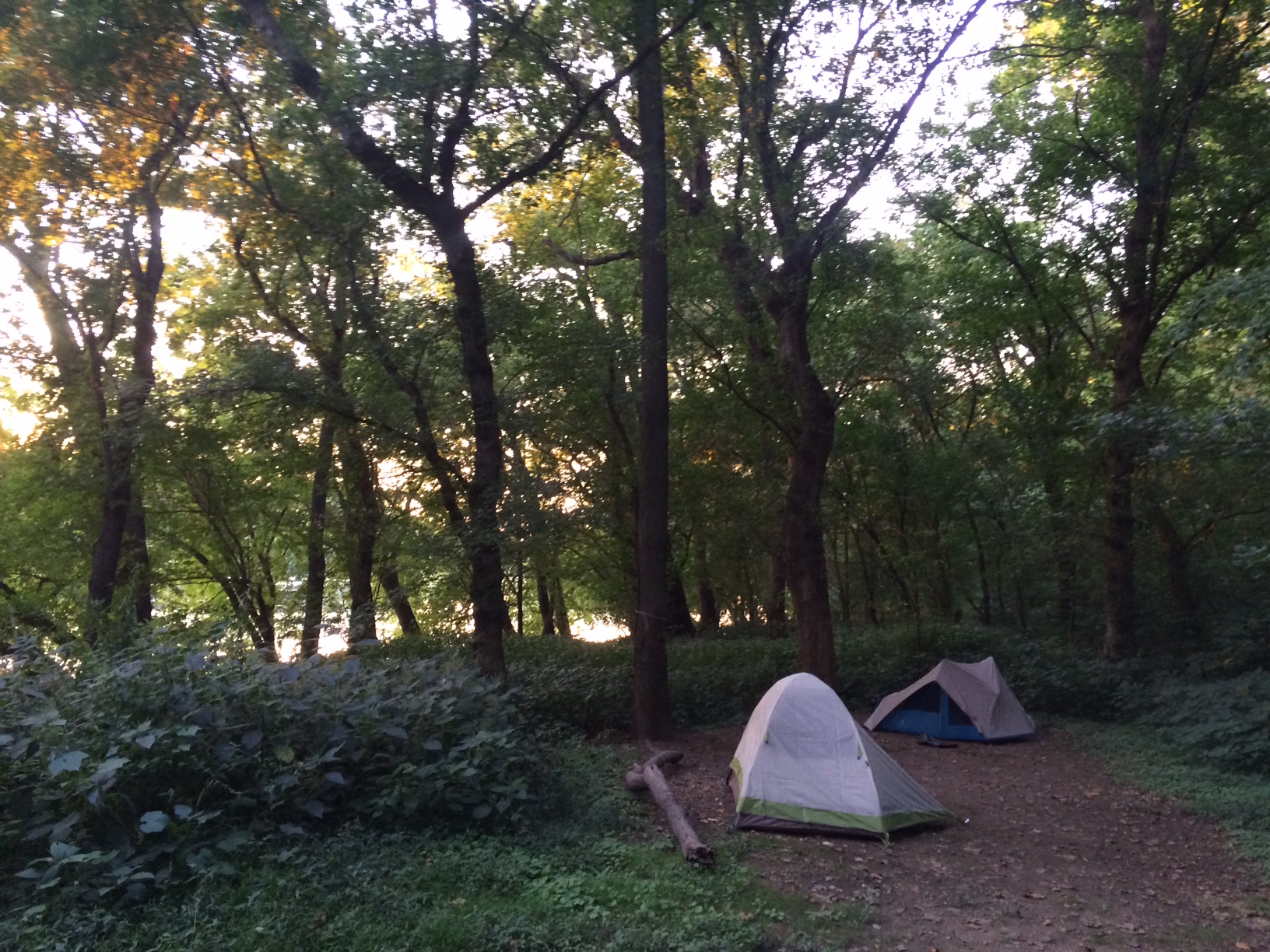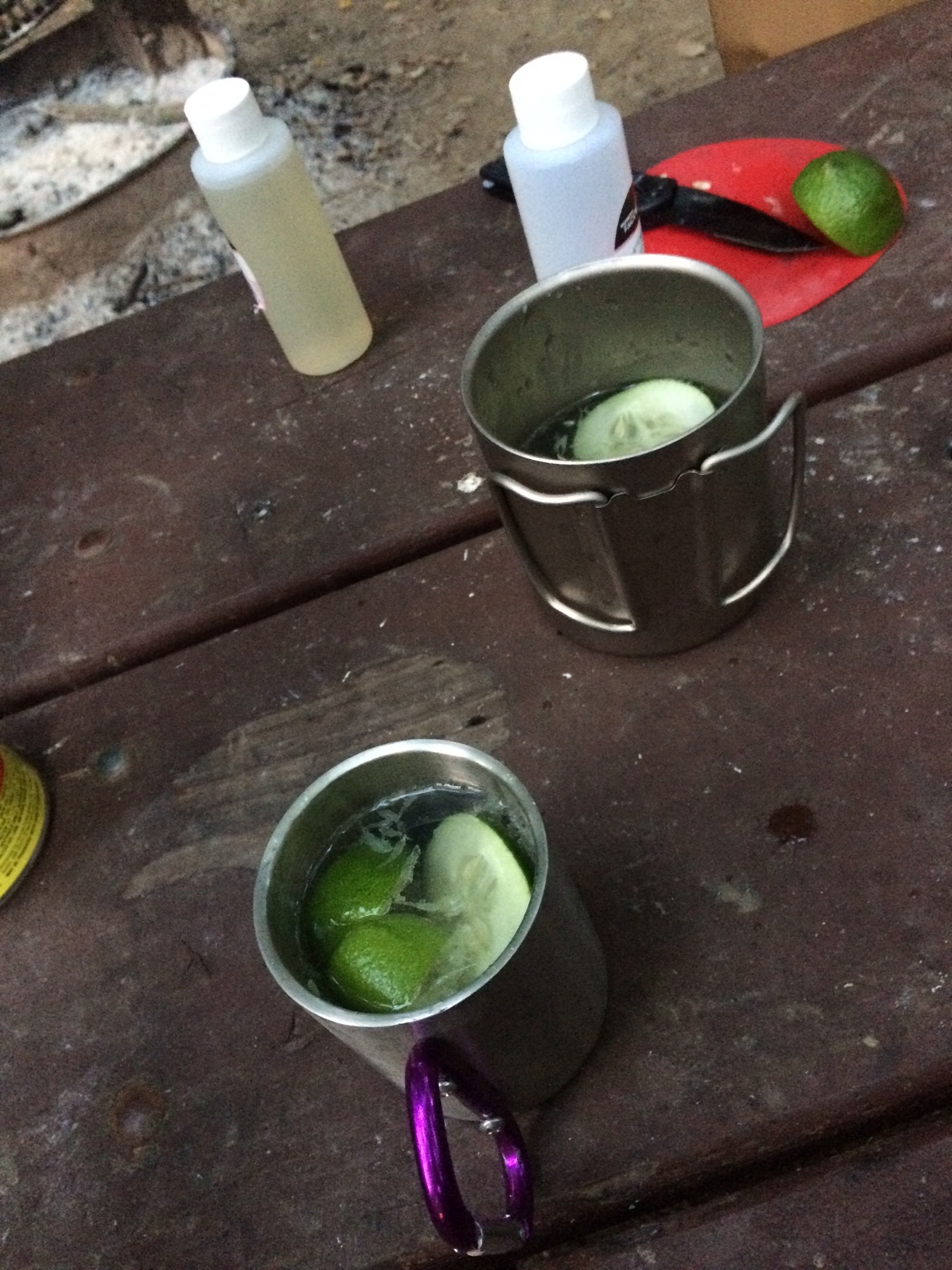 After setting up camp, Kevin pulled out the ace of spades: gin and tonic supplies! (which is one of the many reasons I was over an hour late showing up for the ride. Sorry Andy! -k) No better way to relax after a long day in the saddle. After breaking camp in the morning, Zeke's Coffee was had, and bags were packed. It was time to shred.
Day Two: Rip trails 'til the water runs out!
It was actually not time to shred. First it was time to ride a couple hours on quiet country roads in the early morning light to the trailhead at Little Bennet Park. We found breakfast on the way at a country store, filled up on water, and enjoyed the sweeping views of Sugarloaf Mountain.
Once we arrived at Little Bennett, the fun began. Little Bennett has a limited number of trails, but they sure are sweet. From ripping downhills to gnarly root gardens, our first taste of trails had us both adjusting and readjusting our set ups to keep gear in place and saddle noses pointed the right way.
After connecting Little Bennett with the next trail system with another short road section, we dropped into the Magruder trail system, which is some of the most fun I've had on a bike. These trails are not at all technical, but they are fast and flowy. Perhaps the best part of the route, Magruder flows directly into the Seneca Creek Greenway Trail, which will eventually connect with the Seneca Ridge Trail and Seneca Bluffs trail (though another short road section is currently necessary) creating 35 miles of uninterrupted singletrack dumping you out back on the canal trail. Currently the trail includes about 5 miles of road in the middle somewhere.
Anyway, that was some nice summer daydreaming. We had a blast and are planning to do a version of the route this winter. Stay tuned!